School Mobile App - Top Five Must-Have Significant Features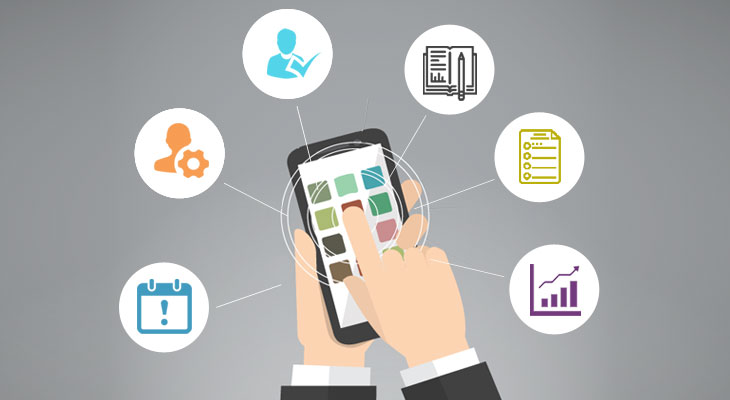 The school mobile app is becoming a craze amongst the gen-next students! More than studying & reading textbooks, children are preferring e-books & video tutorials. All thanks to school mobile apps, children are becoming smarter & learning new skills way faster than it used to be in the previous generation. However, technology can be a boon or bane; it totally depends on how it is being used. When used wisely, mobile apps can contribute to student progress on a huge scale!
A recent survey states that -
"Nearly 94% of students want to use cell phones in class."
Let's discuss seven topmost features that educators must take care of while choosing a school mobile app…
Online Teaching-Learning Process

The first & foremost thing that educators must seek in a mobile app is e-learning provision. They must customize the app that allows students to get connected with K12 faculty & staff on the go. Students that are located in another city or unable to be a part of school due to physical disability can highly get benefited from online teaching-learning! On top of this, online teaching enables faculty members to arrange online assessments & quizzes to keep a tab on the understanding level of kids. The entire curriculum can be mold based on their present performance & hence, helping them to improvise their future academic endeavor.

Automated Marking of Attendance

With an automated attendance feature, the attendance of both students and staff can be marked easily. The class teacher and other subject teachers can use the student attendance app to mark attendance. The teachers can use separate accounts on their mobile phones. Even this mobile app helps them to view the attendance of the whole class or specific student for a particular month. The quick message is sent to the parents when the teacher marks their wards attendance.

Easy Provision of Homework

The latest software used in homework management can seamlessly work on the user's mobile device. This makes it easier for the teachers to assign homework from anywhere at any time to students. With a few clicks, the teachers can also fill up the evaluation report of students. The apps available in the market can also help teachers to make a "Report View" of the homework. It can then be sent to parents and students instantly.

Update about Latest News and Notices

The school management app helps in notifying the parents about the latest happenings, news, updates, and notices. The parents can get an update about circular and events like Parents-Teachers Meeting. Research indicated that 28% of the student's activities were related to notifications by school authorities. Out of this, nearly 7% of the activities displayed notification related to important academic information, tests or examination notices.

Communication with the Parents

The school mobile applications help in boosting parent-teacher and student engagement. The mobile apps integrated with AI-powered analytics dashboards have become a greater utility source that provides vital information to parents immediately. They provide the latest information to parents about their child's performance in -

Academic activities

Extra-curricular activities

Kid's attendance history

Periodic performance in tests
Bonus Tip: Since you're keen to implement a school app & looking for thorough guidance, we are giving you additional two features which you can also discuss with your ERP vendor!
A. Quick Generation of Reports
The school mobile app can make the report generation work easier for the teachers. They can access the academic reports by class, section, student, and consolidated reports. This will help them to communicate the students' academic reports to their parents quickly. The teachers can also cite steps for the overall or academic improvement of the student. This, in turn, will help the parents to concentrate more on their wards' performance.
B. Online Fee Payment & Collection
Mobile apps with online fee payment & collection provision can save countless hours of school administrative staff as well as parents who have to deal with long queues for paying & collecting the fees. With a safe online transaction gateway, parents can stay tension-free and manage the process at their fingertips. School authorities can also issue e-receipts to parents on completion of successful fee payments to maintain a "trust" factor.
To Sum Up
The serious dependency of kids on mobile devices has given rise to the idea of using school management apps. Educators can smartly utilize this opportunity by bringing in edTech in the classroom in the form of a school app. However, they must carefully think & talk to ERP vendors about customizations that can be done to accelerate their overall effectiveness in terms of efficiency, resource optimization & productivity!
For any queries regarding school management apps or to schedule a FREE demo, do get in touch with our team today!