5 ways to get parents involved in student learning process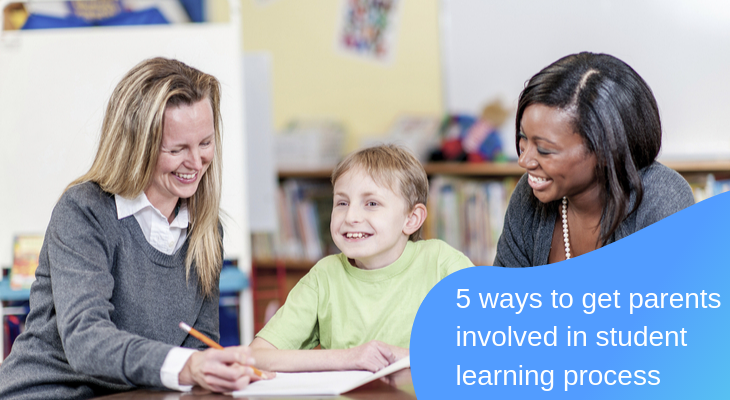 "Children are the world's most valuable resource and its best hope for the future": John F. Kennedy
Recent research has stated that greater parental involvement in children's academics improves their grades as well as helps them grow as an individual. However, times have changed and parental involvement in children's lives has decreased drastically. Today, both the mother and father prefer to work and are committed professionally. Two earning members in a family may keep the children financially sound & secured but it may affect them adversely when it comes to the relationship they share with parents. Children may feel neglected and develop lower self-esteem in the long run.
What should be done to boost parental engagement in children's academics?
Being a parent or a responsible educator, if this question has become a nightmare for you, then, keep on reading this article till the end. We will be suggesting the top 5 ways that would encourage parental engagement in education despite the fact that they both are professionally committed.
Introduce Technology in Classroom
Since, everything in the world has been evolving rapidly, introducing technology in the classroom can prove to be the easiest and fastest way to improve & nurture the bond between children and parents. Educators willing to help parents, as well as teachers, can implement something innovative and useful such as a school mobile app. School mobile app has become the trending learning technology because it has benefited many top-notch educators in terms of enhancing their overall institutional effectiveness and student performance.
Provide Homework and Assignments Virtually
An efficient school management app allows teachers to provide homework and assignments to students virtually. Unlike traditional time-taking process, teachers can design and upload the assignment with just a few clicks when we speak about the school homework app. Parents can view the daily homework and assignments at home simply by logging in the mobile app with their personal Ids and passwords. Once the children are done doing their tasks for the day, they can check and evaluate whether they have completed the homework or not. Such practice will definitely improve children's learning by encouraging them to complete their tasks on time and regularly.
Analytics Dashboard for Precise Performance Report
It is said that grades don't define intelligence! However, grades have their own significance. Grades obtained in different subjects help the teachers to scrutinize the interests of students and enable them to pay more attention to student's academic shortcomings. To help teachers evaluate students' areas of interest, and of course their overall behavior including punctuality, and absentees, a school mobile application embedded with analytics dashboard would be apt.
Analytics dashboards are capable of generating highly precise reports of students' performance within a couple of minutes. Teachers can share these reports to parents via the school chat messenger from time-to-time and help busy parents understand the progress of their children.
One-to-One Teacher-Parent Communication
School app with an inbuilt chat messenger acts as a catalyst in bridging the teacher-parent communication gap. Whether it's the behavior of children in school or their academics, teachers can smartly utilize the school management app to have personalized discussions with busy parents. Staying in touch with teachers would help parents gain a broader perspective which would help them make smart decisions concerning their children.
Updates regarding the Parents-Teacher Meet & Other Events
Parents who hardly get time to attend the Parents-Teacher Meet or other important functions and events of the school don't need to feel guilty. A school app with notifications and reminder feature can generate automated updates whenever there's an important upcoming event and enable parents to adjust their routine and take time out. In worse condition, if both the parents are extremely busy, they may request teachers to upload the pictures and videos of the event so that they don't miss out the precious moments of their children's participation in school events.
To Sum Up
Parents' role is vital to the success of students. Every educator must invest in an effective school management app to help parents to get involved in scholastic activities & track the progress of their children without any hassle.
'Atcovation' is one of the most innovative school mobile apps widely being used by leading educators in the education sector. It covers all the above-mentioned features and is extremely user-friendly & cost-effective.
Get in touch with us to know more about Atcovation & scheduling its FREE Demo!!