How are Teachers & Students Benefiting from School Mobile App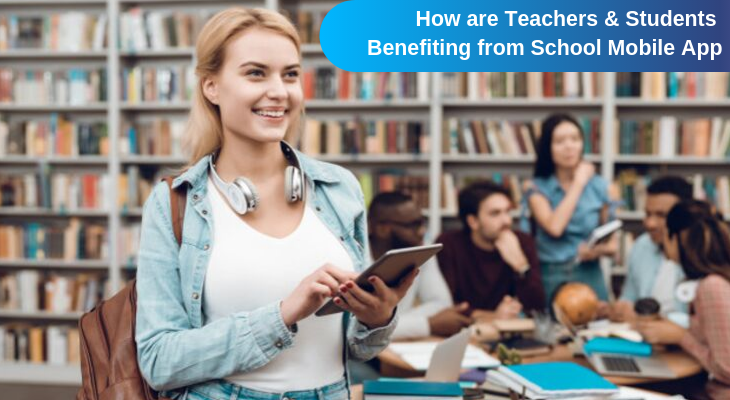 "Technology can become the 'wings' that will allow the educational world to fly farther and faster than ever before—if we will allow it." - Jenny Arledge
Apart from teachers and students, technology has become the main pillar for education institutional success. Therefore, in today's tech-driven world, it's important for educators to harness the power of technology for meeting scholastic goals. Without technology, they may have to face the loss of productivity and compromise on the results they are capable of achieving. We're sure no educator would want to face such a situation.
School app is an innovative tool which is trending these days amongst top-class educators because of its multiple advantages that can improve the student success ratio as well as the productivity of teachers. To help educators understand how it could help their staff and students, we have compiled a list of its major benefits.
Here's the list of the top benefits of a school mobile app...
Automated Attendance System
For students, the word 'Attendance' has become a synonym for fun-time! Reason being it consumes a lot of classroom time every day. To be honest, it's neither the fault of the teacher nor the students. It's a mandatory task that teachers need to execute every single day in order to keep a tab on students. Howbeit, the time-consumption for marking attendance can be reduced to a large extent by the implementation of a school app with an automated attendance system.
School attendance app enables teachers to mark attendance within a few minutes and help them focus on teaching. This practice is sure to proffer great academics results in the long run.
Assign Homework with Mere Clicks
Assigning daily homework is again a headache for teachers that waste their countless hours! No doubt, assigning homework is a sign of healthy teaching ritual but the time and effort it takes on an everyday basis is surely not a thing one would appreciate. For such instances, a school homework app is an apt solution. It enables the teachers to assign homework from anywhere and at anytime that too with mere clicks. Teachers can fully utilize their time in the classroom for helping out students with their queries and assign homework whenever they get free time.
Better Teacher-Parent Communication
Children spend around 8-9 hours in school and the rest of the time with their parents, right? It wouldn't be wrong to say that parents play an equally important role when it comes to a student performance because, without the encouragement of parents, children won't be able to unleash their true potential. Therefore, it is the responsibility of teachers to keep parents in the loop with the scholastic activities and the progress of their children. It would help parents to identify and work on the shortcomings of their children. However, due to a busy professional schedule, parents don't get much time to frequently visit the schools and lose track of their children's schooling life. Believe it or not, the teacher-parent communication gap can leave a negative impression on the children's minds.
To avoid such scenarios and help children perform their best, a school app embedded with a school chat messenger could be extremely helpful. With chat option, parents and teachers can remain in touch, send notices, as well as have personalized discussions for enhancing the children success records.
Key Takeaways
School management app can remold the learning environment to another level by benefiting students, teachers, parents, and the entire institution. Therefore, visionary educators must invest in a savvy school app at the earliest.
Get in touch with us to explore more advantages of school apps.