Is Your School Tech Savvy with School Mobile App and Online Learning Tools?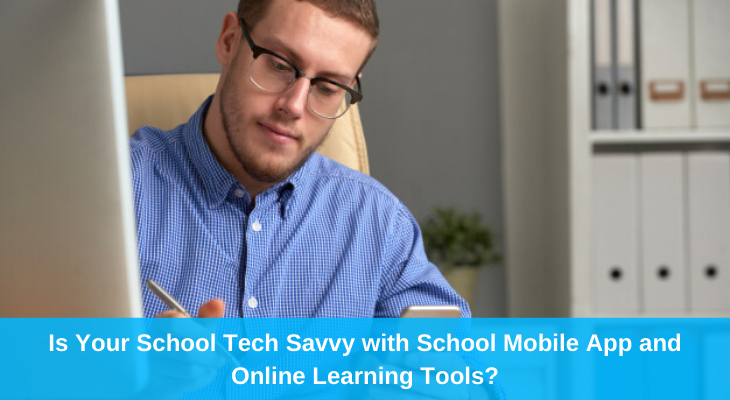 So, after all that hustle of researching about edTech, you're finally here to explore the fuss going on! Well, you are in the right place. We will help you understand how school management apps can prove to be a transformative tool for educating young minds.
*BUZZZZ *Ah! Got notification? Checking it out in the middle of reading?
Well, that's the power of mobile phones! They keep you connected with the world, no matter where you are. Don't feel guilty at all. Mobile phones have become a prime part of our day-to-day life. We just can't do without using our cell phones! Whether one is a parent, kid, educator, or a teacher, everyone's dependent on mobile phones for doing something or the other, agree? Owing to this tech-savvy age of digitization, mobile apps can be harnessed for empowering students with the highest quality of education.
School mobile app – Atcovation is one such leading school management app. It is embedded with advanced features that take care of all the needs of stakeholders & improves productivity & efficiency of schools.
Let's explore the features of School Mobile App – Atcovation by yourself to understand what benefits schools can gain with its implementation…
Online Teaching-Learning

Online education is perhaps the biggest advantage of implementing the Atcovation school management app in the campus. The app provides speared login portals to students and teachers by which they can connect & collaborate with each other at any time. To escalate the learning environment, teachers can indulge in taking online lectures whenever they feel the need for it. This provision not only helps them to carry out their job smoothly but also eradicates the barrier of distance. Students that are unable to join school physically can simply attend the online lectures and be a part of the institution!

Manage Students Attendance & Homework with few Clicks

"He rubbed the lamp, and 'Genie' fulfilled all his wishes…!"

Heard this story at a young age? Well, we can't say about today's generation but a 90's kid would surely relate to it as their generation has grown up watching & listening to such tales. Wondering what's the point? We just want to convey that just like the 'Genie' was supposed to fulfill all the wishes within a blink of a second, Atcovation is supposed to do the same when teachers need to perform tasks such as marking attendance and assigning daily homework! Atcovation is integrated with features such as automated attendance & virtual homework uploading that makes the attendance for teachers & homework assignments much easier. Regardless of the strength of the classroom, Atcovation allows faculty to execute these tasks in mere clicks! A modern-age 'Genie' for teachers indeed!

A Robust Communication Enhancing Tool

Pros for Teachers – Check! Pros for Students – check! What about the pros for Parents?

Parents can also get benefited from Atcovation. This mobile app for school has an inbuilt chat messenger that makes it simple for parents to get in touch with the school authorities as well as teachers. Nowadays, parents complain about not having enough time to invest in their children's academics. The chat messenger suffices the need by providing a digital pathway to have one-to-one communication with teachers. Parents can discuss anything & everything and stay assured of privacy! Alongside communication, Atcovation helps teachers to -

Share performance reports
Send out notifications about upcoming school events
Share images/videos lectures/notes online
Send auto-reminders of parents-teachers meet
All-in-all, Atcovation is one of the finest edTech platforms that cover the entire aspects of academic, non-academic, and communication-related scholastic activities. If your school is yet to implement in a school management app, we suggest you consider attending a FREE demo of the app!
For scheduling the demo, get in touch with us right away!