Why Parents Should Start Using School Mobile Apps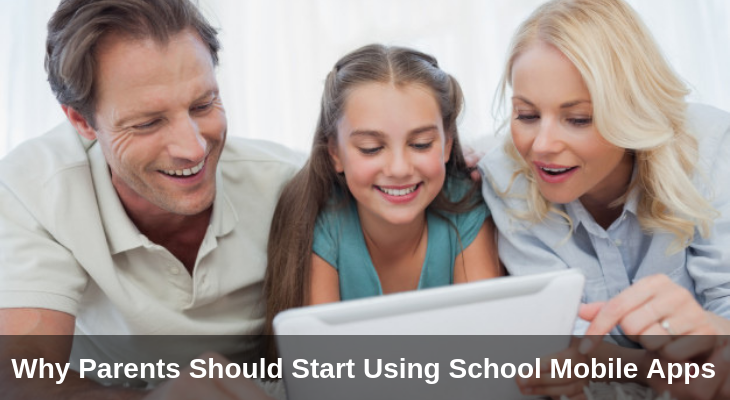 "Parents need to fill a child's bucket of self-esteem so high that the rest of the world can't poke enough holes to drain it dry."- Alvin Price
Majority of the parents who are working professionals believe that admitting their children to a top-class school is the foolproof solution for a better life. Unfortunately, this is not true. Times have changed. In today's world, one can't blame the teachers or educators for mediocre academic records or any unfortunate incidents concerning the security of their children.
Being an innovative learning platform, a school mobile app can eradicate such shortcomings and benefit children, teachers, educators, as well as parents by helping them collaborate anytime and anywhere along with keeping a tab on children safety without any hassle. A school app is extremely user-friendly and hardly take a few minutes to execute operations. It enables parents to check the ongoing scholastic activities and academic reports of children with just a few clicks. To help busy parents understand in details how a school app can simplify their life, we have compiled a list of benefits that parents can attain by using a school management app.
Here are the top benefits of school mobile apps for parents...
High-end Security via School Bus Tracking
Nowadays, children security is the topmost serious concern of every parent due to the increasing crime ratio. Every parent wants their child to be in a safe environment. However, it's a fact that they can't be there with the children 24*7. For minimizing the mishaps against children and providing them security, a school app embedded with a GPS or Global Positional System Bus Tracking feature can prove fruitful.
With school bus tracking system, parents can monitor the bus in real-time right from the pickup to drop! It keeps the parents updated by sending them routes and location updates as well as alert notifications in case of emergency. It won't be wrong if we say that along with managing children security, a school app also provides peace of mind to parents!
Quick, Safe, and Secure Online Fee Payments
Fee payment is yet another feather in the cap of tension! Jokes apart, parents often complain regarding the enormous time-consumption while they stand in the long queues for paying their children fees. They do understand that paying fees is a crucial task, but they still complain as they have to take time out of their busy schedule at regular intervals of time. Sometimes, they may have to face the wrath of their boss at the office because of the same reason.
For such instances, the school mobile app with safe and secure online payment option can prove to be a boon! With the secure payment gateways, parents can transfer money to the school authority's account with just a few clicks. School apps also provide an e-receipt on the parent's email Id after a successful transaction so that they can be assured of payment-related safety issues.
Chat Messenger for Smooth Parent-Teacher Communication
Once the children are admitted to the school, it's the responsibility of parents to visit the school frequently and have discussions with their teachers regarding their progress. But, once again the tech-age demon of time comes in between! With a school app integrated with chat messenger, parents can overcome the time barrier easily. Chat messenger enables them to have a personalized discussion with the teachers from any place and at any time. They don't need to cancel their important meetings for the parents-teachers meet.
In addition to this, parents can also request teachers to share pictures and videos of children performing in cultural events or sports via the school app so that they don't miss out on the joy of watching their children perform.
Key Takeaways
An effective school app can transform the scholastic experience of children and transform the parent's world by making everything easier! It not just improves parental involvement but also provides a subtle encouragement to the children for performing better with every opportunity. Therefore, being a responsible guardian, parents must proactively use a school mobile app.