The Leading School App for Teachers Parents with No More Communication Gap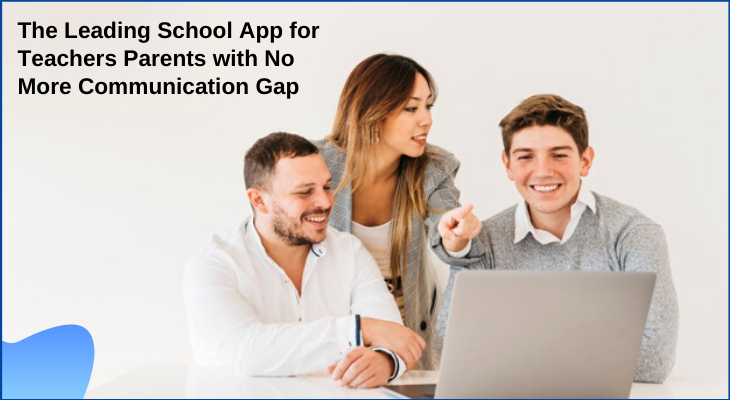 If you look a few decades back, "dining with family" was considered to be a ritual. A strong ritual which everybody used to, or rather has to follow! It was a time when the entire family - parents, kids, and grandparents – every single person in the family used to eat together and have personal talks about what is going on in their lives. One may not realize it but it was actually a golden chance to seek advice from the experienced members & release the stress.
This is probably why the adage was popular – "A family that eats together stays together"
Unfortunately, this tradition ain't seen more often. Everyone in the home has a different dinner time slot due to the frenetic mores. Children these days walk straight into their room after coming home from school. The gen-next is mostly bothered about their virtual world where they play computer games, watch videos, and do fun activities. On top of this, even parents don't get time to discuss the schooling-life of kids.
I remember when I was a kid, my parents were very serious about my grades & schooling stuff. They used to check my homework, scold me not for doing it, ask me to finish it, and then go to play with friends outside…To be frank, this cycle went on loop until I finished my school! Today, parents pay a handsome amount of money and hire tutors to take care of their kid's grades!
Is there any solution to win over the situation?
Yes, there is! Implement the leading School Mobile App – Atcovation!
Atcovation is an avant-garde school management app developed to foster healthy & active communication between the prime stakeholders - parents, children, and faculty. Healthy communication is based on three vitals- Talking, listening, and encouraging. Let's dive into the smart features of Atcovation to understand its entire functionality & what benefits it has to offer for enhancing the communication.
Talk: via School Chat Messenger
The first step you need to take for staying updated is talking! However, as I said, one doesn't have "TIME" owing to the professional commitments. The development team of Atcovation understands this ground reality and this is probably why they have provided the feature of chat messenger in the school app! Chat messenger allows parents to unite with teachers & have a chat on the go! All they require is to install the app on their phones and choose the teacher they want to talk to. Whether the concern is kid's grades or their personal behavior at school, this simple activity empowers parents with all the information they need about their child. They can even ask for reports cards in case they are too busy to attend the Parents-Teachers meet! It's that simple!
Listen: to the In-depth Analysis powered by Analytics Dashboard
Integration with smart BI tools such as analytics dashboard is one of the best features of Atcovation. The analytics dashboard is a platform that collates & displays all the scholastic & co-scholastic data regarding your children in the form of reports. It enables teachers to generate reports by choosing any particular area where they need to analyze the performance of the children. Suppose, your child is consistently performing poorly in academics then you can request the teacher to figure out the reason. You can have an in-depth analysis of the situation by studying the reports. In addition to this, you can also check several other crucial factors such as –
Attendance history of your children
Daily homework submission status
Participation in extracurricular activities
Major areas of weakness & excellence - subject-wise
The school communication app has all the features that can carve out a clear picture of what the kid is up to. Once you identify the core problem that your child is facing, you can start taking action. You won't need much time to figure out things when you have the entire information about your kid. Indeed, this can help you boost their performance.
Encourage: Positive Mindset in Your Children
Emotional bonding affects the communication you have with the little kids. The more the strong your bond is the more your communication will improve. With Atcovation, you can strengthen your emotional bond by nurturing "Trust" & "Faith". Thinking how? Well, Atcovation has features such as
Notifications and reminders
Sharing option for videos & images
These features help you stay involved with the kid even when you are away! For instance, there's an event where your kid is participating and you are witnessing their excitement for a month or two at home. They are all charged up for it. Even you've reserved the date & taken leave for joining your kid at school. Unfortunately, at the last moment, your boss has to cancel the leave due to the priority task. It may not be a big deal for adults like us. But, it can really hurt & affect the kid negatively. So, for avoiding such situations, the above-mentioned features of the school communication app can be useful. With reminders & alerts, you get notified about the upcoming functions. It helps you save the date & apply for leave at the office. And in the other case, where you can't attend the event, the video & image sharing option helps you check out the performance of your child on your phone. You can both sit together & watch it. It will surely impact your emotional bonding with the kid and create a positive mindset.
In a nutshell, Atcovation is the best school app for teachers, parents, and students. But wait! There's so much more to it. For exploring more details or arranging a FREE demo of Atcovation, get in touch with our team! We'll be glad to assist you!