Education Technology Advancement with School Mobile App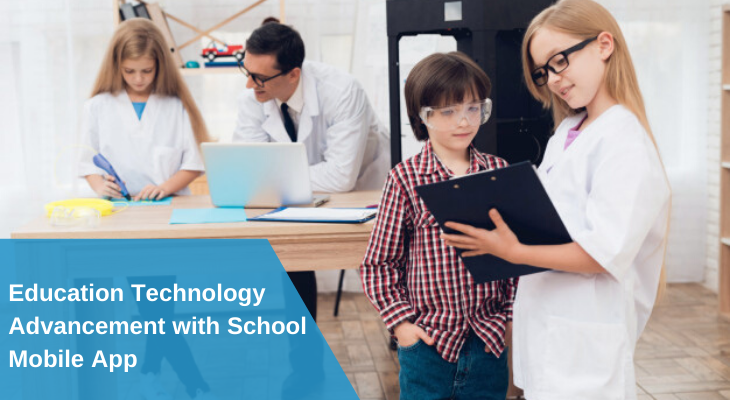 Manual Attendance time - 20 Minutes Approx
School app – Less than a minute!
Manual Data Entry - Errors in Student Data
School app – High accuracy of data!
Manual Fee Payment – Standing in long queues
School app – Safe & secure online payments!
The inception of edTech has completely revolutionized the education sector! Unlike the traditional ERP software that just handles the in-house processes; school management software integrated with a mobile app can offer a lot more benefits to educators. Right from streamlining the scholastic tasks, school apps have opened new doors to learning! Students can get access to study materials & attend online teaching sessions with just a few clicks. To be honest, with an efficient mobile app, teachers, students, parents, and educators – all the stakeholders can collaborate & communicate at any given point in time. Distance, location, and physical ailments, school management software has surpassed all the barriers and paved the way for a bright future.
Let's explore the education technology advancement brought by school mobile apps…
Monitoring Student's Performance
Earlier, with traditional school ERP software, teachers had the provision to manage their routine tasks with ease. It certainly helped them to pay more focus on teaching. However, keeping a tab on students' progress was still a hurdle. For instance, if there are around 50 students in a classroom and the faculty member teaches a minimum of 2 sections then, the student count goes to 100. It's not easy to manage all the details of 100 students at once! So, for such cases, the school management app with an intelligent analytics dashboard is apt. Analytics dashboard helps the faculty members to keep track of all the students they teach by collaborating & displaying their details on the teacher's portal. It can further generate reports of their previous examination grades enabling teachers to evaluate their academic strengths & weaknesses in depth.
Enhanced Teacher-Parent Communication
Teachers and parents hold a special place in children's lives, especially during their growing age. Parents that stay in touch with teachers, attend teachers-parents meet from time to time are sure to reap multiple benefits in terms of children's academic performance. Parents who are aware of what their children do at school will help them understand the problems they might be facing. It will also enable parents to realize their interests. Thus, healthy teacher-parent communication & bonding encourages the pupil to perform better.
The problem today is that both the parents are working professionals & they hardly get time to visit schools. With a school communication app, the problem can be resolved without any hassle. Educators can introduce a parent communication app embedded with chat messenger & bridge the communication gap between teachers & parents.
Real-Time School Bus Tracking System for Student Security
Being a parent, how does it feel to leave your children alone? It's surely not a great feeling especially when we keep on hearing about unfortunate incidents & crimes against children. It has been observed that most of the time crimes such as kidnapping take place when the children are outside & alone. Therefore, parents must be extra careful when their children travel to school & back home.
A school bus tracking system with GPS feature is the latest technological advancement in the world of school ERP software. It has been introduced deliberately to minimize the chances of bad incidences. It ensures complete student security by tracking routes, pick-up & drop timings of drivers in real-time & sending updates to parents & school faculty members simultaneously. With its implementation, parents & educators can breathe a sigh of relief & create a positive space for children even outside the classroom!
In a nutshell, a school mobile app can be touted as the 'Best edTech device for educators'! It can boost institutional growth along with the escalating learning environment of students. Therefore, educators should look for an experienced & top-notch school ERP vendor & implement the best school app at the earliest.
To explore more about school apps, schedule a FREE demo today!