How School Mobile App Transforms Student Experience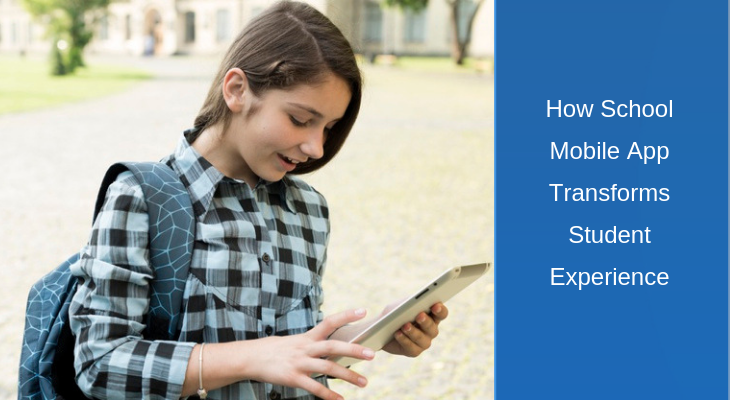 "Integrating technology with face-to-face teacher time generally produces better academic outcomes than employing either technique alone." - Edutopia
Schooling is one of the times that a student can never forget no matter what he becomes in life. It's true that the main purpose of school is to create a solid educational foundation for students, but this period also concocts a strong impression on the young minds they carry forever. Therefore, understanding this, educators must take their work seriously and try to facilitate the best learning environment for students.
One of the easiest ways to provide the best learning experience to students is the introduction of effective technology such as a mobile app in school. A school mobile app can streamline the daily operations of the teachers and allow them to invest their saved time for developing new academics strategies for the development of students.
Here are the top benefits that teachers and educators can reap from a school management app and transform student experience...
Safe & Secure Online Fee Payment
The responsibility and workload of the faculty members, in short, the faculty lifecycle begins when they get genuine leads according to the institutional parameters such as marks of aptitude tests, interviews, and so on. They require to carefully manage the fees collection procedure after preparing the list of final students. Manually handling the cash could be daunting at the time of admission of thousands of students. With a school app integrated with secure online fee payment, staff can eradicate the hassle of collecting the fees by activating online fee collection. Online fee payment system integrated with secure payment gateways are absolutely safe to use and allows parents and students to make payments with just a few clicks of a button.
Share Homework & Mark Attendance without Any Hassle
Marking attendance and assigning daily homework are the two major activities that teachers can't avoid at any cost. However, they are time-consuming and may hamper the teaching routine of faculty members. Due to time restraint and these additional responsibilities, teachers may not be able to pay attention to students.
A school management app embedded with automated attendance and homework assignment feature can smoothly overcome such barriers and enable teachers to dedicate their time purely for teaching. They can quickly mark attendance within a couple of minutes and share homework with a school homework app effortlessly saving their countless hours!
School Chat Messenger for Clear Communication
Parents who encourage and support their children are likely to see the best results in terms of their academics as well as entire development as compared to parents who don't. Well, there isn't any parent who would want their children to be average. Everyone wants the best for their children. However, due to hectic professional lives, parents hardly get time to look after the academics of their children. To be honest, earning bread and butter is also necessary.
So, what could be done to bridge the parents-teachers communication gap?
Implement a school app with chat messenger!
Chat messenger allows busy parents to stay in touch with teachers and keep a tab on their children's academic progress. It allows them to communicate, analyze, and discuss the plan of action that could help students from anywhere and at any given point in time.
Therefore, while choosing a school management software, educators must look for chat messenger feature. After all, a crystal clear communication between parents and teachers is the pivotal aspect that can instill trust and faith children. 'Atcovation' is a leading school mobile app that can simplify and automate the daily work of teachers. It's an inventorial attendance and parental engagement tool that can monitor and track students, teachers, and parents and boost the institutional progress in the long run.
Educators intending to improve institutional effectiveness by transforming students experience can contact us for a FREE demo!
Our team would be more than happy to help you attain your goals!