How Teachers can Leverage School Mobile App to Improve Student Outcomes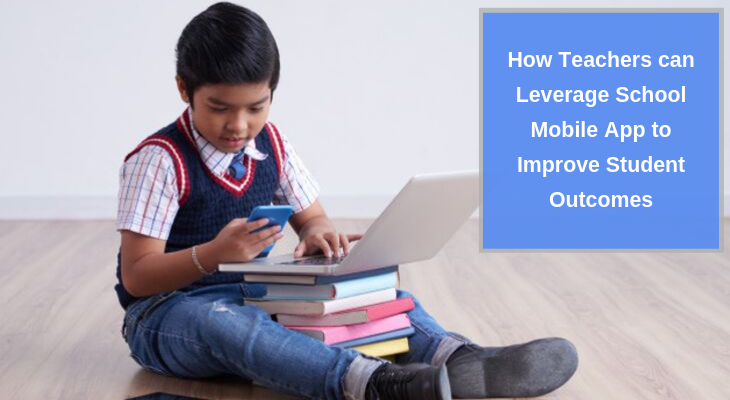 "Teaching is a very noble profession that shapes the character, caliber, and future of an individual." A. P. J. Abdul Kalam
In today's fast-paced world, it won't be wrong to say that we have the technology to manage almost everything! However, there isn't any technology that can replace a good teacher. Human touch is necessary for children to learn and grow academically as well as personally. Having said that, a good teacher can harness the technology skillfully and make a difference in a student's life! Technology can turn out to be a boon if used wisely. Without technology, it would be tough to accomplish goals within a short span of time!
Now that a school mobile app has become a trending technology in the education sector, every teacher willing to help students must pay attention to it and develop new learning methodologies and help improve student outcomes.
If we talk about the benefits of a school teacher app, it can enhance a student's academic performance in the following ways.
Automated Attendance Management
A recent research shows that the number of students bunking schools has increased tremendously and chronic absentees have become a new norm these days. It is actually sad as it can lead to negative effects by disturbing the study routine of students in the long run!
Share Homework and Academic Report Cards Online
To prevent such situations, a school app that has automated attendance management can prove to be a savior. It will automate the daily attendance, and generate weekly, monthly, and yearly attendance records within no time, which would help teachers identify students who've been bunking classes. They can share the information with their parents with mere clicks and have a discussion regarding it. It will help the faculty and parents to stay in the loop with the students, minimize the cases of chronic absenteeism, and ultimately help students focus on studies.
Smooth Teacher-Parent Communication
Nowadays, the biggest challenge every educator is facing - Working Parents!
That's true! Although it is a positive thing for students when both the parents are working professionals as they won't have to face extreme financial crises. But there's a problem which is being created due to the hectic lifestyle of parents, and that is - they don't get time to get involved with children in terms of helping them with academics and attending Parents-Teachers Meet. Believe it or not, it can adversely affect young minds and create a communication gap between them.
A school mobile app with chat messenger can address this issue by allowing parents to stay in touch with teachers and have personalized discussion regarding their children scholastic behavior and progress. Teachers can share the feedback and examination grades of children with just a few clicks. In this way, parents can precisely identify their shortcomings and encourage them to perform better.
Send Homework and Assignments Virtually
In addition to sharing exam grades, school app also serves the purpose of sharing daily homework & assignment virtually and enables parents to keep a tab on their children. Parents can easily cross-check whether their children have done the homework properly or not. Knowing that parents are keeping a tab on their activities would further motivate the students to complete homework with sincerity.
Send Notices and Updates Regularly
Gone are the days when papers were utilized to publish notices regarding any event or function in schools. Today, due to awareness about the environment, everyone understands that paper consumption is not worth and should be avoided. With an efficient school management app teachers can create and send notifications to parents and students digitally. It would fasten their speed of operation as well as save paper and of course the time & efforts of teachers which they could utilize for helping out students.
With educators consistently looking out for smart technology to improve student outcomes, a school mobile app can prove to be a game changer. Surpassing the traditional methods of teaching and learning, it allows teachers, parents, students, and educators to rise beyond their limitations. Therefore, schools aiming to achieve greater heights by providing quality education to students must embrace technology.