School Mobile App vs. School Mobile Website: Which is better?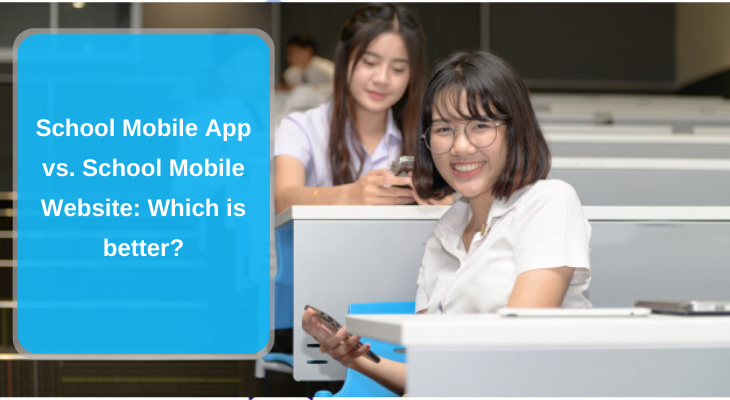 School educators are often in a dilemma - whether to implement a school mobile app or a website? Well, there's no certain answer to this question. As every school has its own working parameters & internal processes, its requirements are likely to differ. For instance, if you are living in a hot region where the temperature is unbearable, you need to buy an air conditioner. On the other hand, if you live in a region where the temperature is not too high & is bearable, you may feel content with a fan!
Depending on the core requirements of schools, let us understand which schools can get benefited from a school mobile app and a school website.
Who's the Target Audience?
One just can't win a dancing competition by singing a song!
Agree?
Similarly, the main target audience holds decisive power and makes it clear for the educators which option would be more suitable. When things are just about providing school information to generate genuine leads then, a website would suffice. External people can simply visit the website to get an idea about its history, educators, teaching staff, infrastructure, and additional facilities. However, when educators want to provide information regarding ongoing scholastic events or regarding the children's progress to parents, then a school mobile app would prove fruitful.
Parent-Teacher Communication
When it comes to internal communication, mobile apps are the most preferred option. Interaction can also be done via the mobile website, but it won't be that effective simply because of non-continuous end-support. Mobile devices provide the flexibility of collaborating in real-time to both parents & teachers. No matter how busy teachers or parents might be, they can anytime have personalized communication with just a few clicks of a button! Ain't it great? As we mentioned, for communicating regarding any event or sharing any kind of children-related information with parents, the first choice of educators should be a mobile app rather than a website. In addition to this, the school management app can also serve as an attendance app for students. Faculty can mark their attendance within no time and utilize the saved time to interact with students & solving their academic concerns.
Learning Outcomes Management
A great teaching-learning session requires real-time student engagement. The school website is simply not sufficient for the task. Educators can surely proffer study-related information to students in the form of blogs or by uploading videos to their website, but real-time engagement can be achieved only with the implementation of a school app. With an effective school management system, teachers can discuss curriculum, share notes, arrange quizzes for mapping their performance, provide a timetable, exam schedule, academic queries, and much more directly with the kids. In addition to this, they can also track their attendance & performance. Such interactive activities, performance mapping & learning methodologies are bound to create a positive learning environment and drive student success.
So, the bottom line is that both the school mobile app and website have their significance. In some instances, a website can work wonders while in other cases, especially when it comes to the management of scholastic activities & maintaining communication with parents & teachers, a school mobile app becomes the best choice.
To explore more about school mobile apps or scheduling a FREE demo, get in touch with us today!