Digital Classroom Helping Teachers to Focus on New Learning Techniques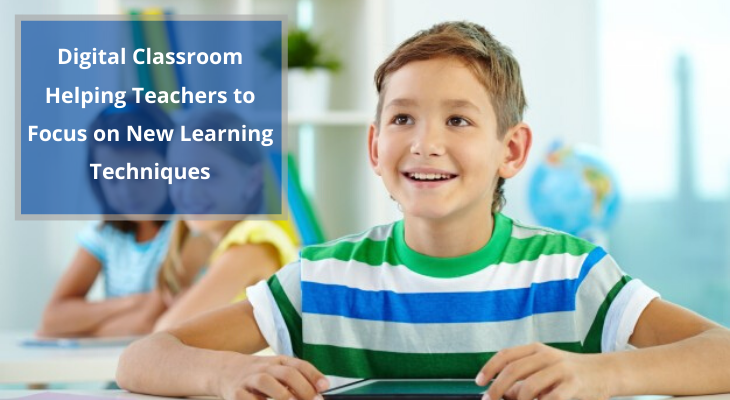 "Teachers need to integrate technology seamlessly into the curriculum instead of viewing it as an add-on, an afterthought, or an event." – Heidi-Hayes Jacobs
In this age of digitization, it is of utmost importance for educators to acknowledge that students love technology. This generation is completely tech-savvy and more than anything else the technological tools such as smartphones have become a source of knowledge for kids. Well, there's nothing wrong with using mobile phones or other devices. In fact, educators can integrate edTech in the classroom and reap its benefits by introducing school mobile apps! School apps not only make it easier for the teacher to perform teaching & reduce manual workload seamlessly, but also transform the entire learning experience of children encouraging them to excel in academics.
Here's how digital classrooms can help teachers to focus on new learning techniques and empower students…
Time-efficient Automated Attendance System
The biggest reason that restricts teachers to pay attention to kids is the burden of non-teaching activities such as marking daily attendance. On average, a teacher spends nearly two-thirds of their lecture time in registering the attendance of students manually. With the implementation of a digitized school app embedded with an automated attendance system, teachers can save countless hours by marking attendance within a few minutes! They can further utilize the time for developing new teaching plans for the kids.
Interactive Online Teaching and Learning
With the emergence of digital classrooms in the educational landscape, it has become easier for teachers to arrange online teaching and learning sessions. It enables teachers to collaborate with students from anywhere and at any given point in time. All they need to do is log in to their e-learning portal and begin the interactive teaching and learning process. Teachers can also upload video tutorials, notes, and study materials on the portal to help students learn the topic better.
Frequent Online Assessments for Mapping Students' Performance
The best possible way to identify whether students are learning & grasping the curriculum is to take tests from time to time. A campus management system with e-learning provision allows teachers to smoothly conduct assessments at frequent intervals & enables them to figure out the actual position of children in terms of learning. They can evaluate & analyze the results for mapping student's performance and have personalized communication with them. They can clearly ask them the challenges they might be facing and further modify the teaching methodologies that would help students learn better & lead them to academic growth.
Key Takeaways
More than a privilege, a school management app has become a necessity for educators willing to enhance teaching & learning. 'Atcovation' is one of the most reliable school mobile apps integrated with e-learning facility & features that streamline the workload of teachers. It takes care of the needs of students & teachers by proffering digital & interactive environment. It enables teachers to pay more attention to their teaching skills, plan better strategies for escalating student progress, and achieve scholastic goals efficiently.
Want to explore more about Atcovation - Schedule a Free Demo Today!!