How to Enhance Teacher-parent Communication?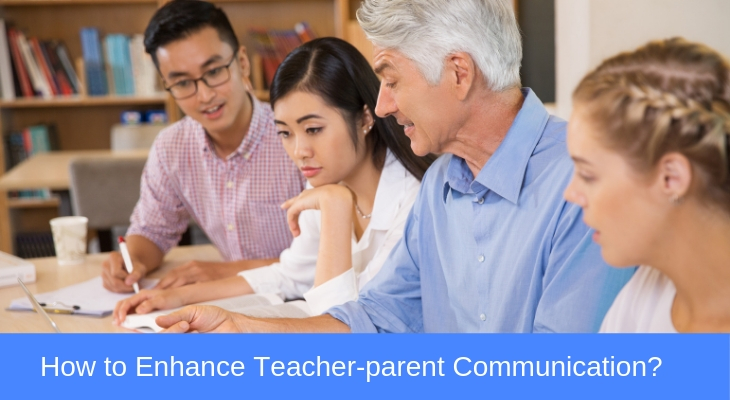 Is the performance of your students getting affected because of the teacher-parent communication gap?
Parents & teachers are the two major sources of strength that a child ever needs to excel not just in academics, but in life. This is why; teachers and parents need to maintain a good rapport with each other. Ultimately, it's their teamwork that boosts student progress. Unfortunately, due to a busy professional work routine, very few parents are able to maintain communication with the K12 faculty.
Without consistent communication, a communication gap between parents and teachers is bound to arise, which may have serious repercussions on the students' education. To help teachers and parents maintain healthy, meaningful, and seamless conversations, 'Atcovation' – an innovative edTech app has come up with a chat messenger, which just works like magic when it comes to sorting out communication between all the stakeholders. It enables parents to get all the student-related data such as their grades, attendance history, leave reports, etc at one place and enables them to stay in the loop with teachers from any place & at any time.
Here are more prominent ways by which the best school management app – Atcovation can be deployed to benefit all the scholastic stakeholders:
Interactive Platform: The school parent app helps parents and teachers to have a two-way interactive conversation. They can freely discuss the student's performance and behavior regularly.

Virtual Teacher-Parent Meet: If a student is scoring less consecutively then, teachers can immediately inform his/her parents at the click of the button rather than waiting for a Parent-Teacher Meeting. Parents can intervene and resolve the issues the student might be facing at the earliest.

Day-to-Day Scholastic Activities: Teachers can discuss ongoing classroom activities and what students learn every week. This helps parents to be in constant touch and know exactly what their child is learning.

Share Online Study Resources: Teachers can share online study materials for improving the teaching-learning environment. For example, teachers can send - PPT's, videos, articles, e-books, etc. to help students understand and grasp concepts better. It encourages kids to explore new things & gain a deeper knowledge of even the most difficult subjects.

Automated Event Notifications: Details about upcoming school events and parent-teacher meetings can be easily sent by the teachers so parents can clear their schedules in advance and not miss the event. Gentle reminders about the event can also be sent so that parents don't forget to attend the event.

Online Homework Assignment: Teachers have limited classroom time and more often than not crucial class is lost completing tasks other than teaching. Assigning homework to students every day is one such task. Sometimes to avoid completing their homework students don't inform parents of homework.

With the Atcovation inbuilt messenger, teachers can easily resolve any issues parents might have regarding homework. This ensures that teachers and parents are on the same page. Parents can also make sure that their child is completing the assignments on time and that everything is going on smoothly at school. Another benefit is that teachers do not have to send homework individually to all students. Instead, they can send the homework in bulk to save time.

Curriculum & Schedule: Often, parents have doubts regarding the curriculum, school events, and activities, homework, etc. it is not feasible for them to visit the school to clear them up. But with the messenger, they can easily contact the teacher even after school hours. Teachers can also guide parents on how to help students with their studies.

Automated Attendance Management: With increasing crimes against children, parents are getting more vigilant and want to know about their child's whereabouts at all times. To help parents have an ease of mind, the Atcovation app sends a daily automated message about the attendance status of the student to the parents. Teachers do not need to manually inform parents if the student is absent. Parents also have the flexibility of applying for the leave application with the messenger.

Unified Chat Messenger: The Atcovation messenger is a centralized platform so parents have all the messages in one place. They do not need to check emails and messages on different platforms. Chats are also saved which helps eliminate mail trails.

Save Parent's Contact Numbers: Teachers can access contacts of all parents in one place so they do not have to search through their contact list to send a message. In case of emergencies, teachers can easily contact their parents.
Read More: Importance Of Assigning Homework
To Sum Up
Recent studies have shown that proper communication between parents and teachers can indirectly help foster the performance & growth of students. Furthermore, a positive teaching-learning environment also reduces stress & promotes sound mental health amongst kids. With Atcovation's advanced features, personal improvement goals of young kids can be achieved and the communication barrier between stakeholders can be eradicated completely.
Educators looking for the best school mobile app must consider scheduling a FREE demo of Atcovation today!