How Parents involvement can support their kid's growth via school mobile app?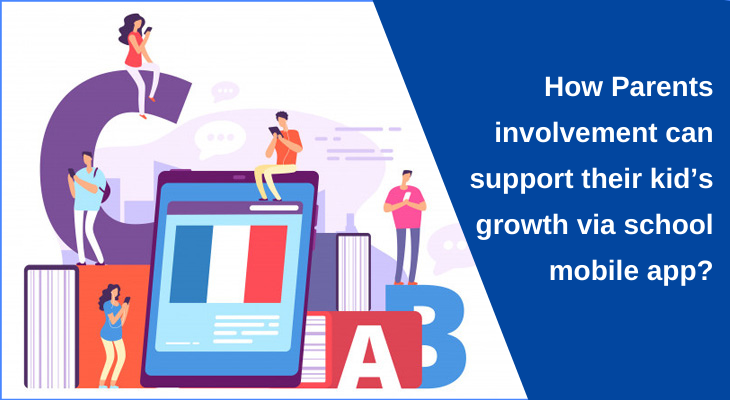 Before jumping to the benefits of school mobile app for kid's growth, if I ask you a simple question -
"How much time do you spend with your kids?"
What will be your answer?
It takes some time to recall the entire day, right? That's the kind of life we all are leading - unfortunately. Earlier, I remember when I was a kid, my mother used to be there with me all the time. Right from making breakfast to getting me ready for the school, she was the one person who was dedicatedly looking after me. Even my father's entire time after coming back from office was entitled to pampering me. Cozy evenings, sometimes spent talking, sometimes playing, sometimes eating new dishes, sometimes discussing exams…When I look back, I consider it to be my biggest blessing. Even though a plethora of facilities are provided to this generation, parental involvement ain't there!
What could be done? - I am sure this question that has intruded & hacked the mind of most parents, bothers you as well. So, let's not waste time and understand how edTech can work wonders in the mental & emotional development of kids. I will be emphasizing on one of the leading innovative school parent app named – Atcovation! In the vast market flooded with parent communication apps, it has marked the position of a top-rated app due to its advanced school app features & functionalities. Being a parent or an educator, you'll surely get benefited from Atcovation.
Here's how Atcovation School Mobile App can increase parental involvement & support their kid's growth…
Promotes the Highest Quality of Education & Learning

Interlinked with e-learning tools & technology that allows students to explore new things, Atcovation can significantly raise the bar of education's quality. It enables faculty to set a new benchmark by getting involved in modern ways of teaching and at the same instance, it allows parents to keep a tab on virtual activities of their kids. Parents can open the school app & check certain factors like children's daily homework status, attendance status, and so on. If parents observe any inconsistency, they can speak to the child for sorting out their issues. Even, they can talk to teachers via school chat messenger facility available in the app for improving communication. Even a single word of encouragement goes far! Thus, Atcovation can be the best medium for nurturing the relationship between every stakeholder and reducing their stress!

Helps in Achieving Realistic Student Learning Outcomes

'Smart Analytics Dashboard' is perhaps the best feature integrated with Atcovation. It is technically the 'heart of the app'. It has every bit of student-related information required for assessment, monitoring, and improving the learning outcomes of kids. Just as a "Doctor" diagnoses a patient and finds out the root cause & disease prior to starting any treatment, the analytics dashboard can help faculty analyze the problematic areas of a kid's academic lifecycle. It helps them evaluate their performance by generating reports that states every nook & cranny of their academic history. Parents who are worried about the poor performance of their kid can assess these reports & find out the challenges their little ones are going through. Once they understand the reasons, they can reach out to the kids and make strategies that would help them come out as a winner in an adverse situation.

Reminders and Alerts on Important Occasions

I understand that parents don't get enough time to visit schools because of their professional commitments. However, attending parents-teachers meet & certain other events that might not seem "important" to us at this age might be the "most important" events in a kid's life! Every child expects that care & encouragement from their parents. For a kid, parents are real-life heroes! Ignoring the scholastic events may affect them deep down negatively. To avoid such complications, Atcovation provides you a phenomenal feature of automatic reminders & alerts service. It automatically sends notifications regarding the events from time to time on parent's email & personal phones so that parents can plan their leaves in advance. If they still can't make it to the event, they can watch videos, photos, and glimpses of the event by accessing their portal! It will certainly boost their involvement in kid's schooling period!

Read more here: Benefits of Using School Parent App

Loved the idea of implementing the school mobile app- Atcovation? Get in touch with our team. We'll schedule a FREE demo for you right away!